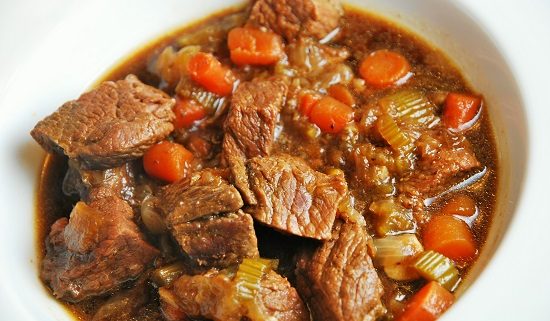 Don't just warm your tummy – warm your soul as well! this recipe is a MUST for these winter chills.
600g chuck or gravy beef.
1x onion, sliced.
2x medium carrots, sliced thinly.
2x Tbsp plain flour.
3x cups beef/vegetable stock.
1x tsp Worcestershire sauce.
1x Tbsp soy sauce.
1 Tbsp thyme.
2x bay leaves.
2x tsp garlic.
Preheat the oven to 180°C.
Cut beef into cubes/strips.
Season with salt and pepper, add about 2 tablespoons of oil and mix well.
Heat a large fry pan over a medium-high heat. Brown the beef in batches then place in a casserole dish.
Reduce heat in pan, and sauté the onion and carrot in butter. Cook for 1-2 minutes, stirring occasionally.
Sprinkle in flour and stir until the vegetables are coated.
Gradually pour in stock, stirring well. Add the remaining ingredients and bring to the boil. Pour into a casserole dish, cover then place in oven and cook until the beef is tender. Stir every 40 minutes or so, adding water if needed to keep the ingredients just covered. (Roughly cooking time is 2hrs and 30mins but will depend on different types of ovens and temperatures)
Smart tip: This casserole can be cooked on a stove top or slow cooker.
Stove top method: Place the browned beef and other ingredients in a heavy-based pot. Partially cover, keep the heat low. Simmer until the meat is very tender. Stir occasionally, adding water if needed to keep ingredients just covered.
Slow cooker: Place the browned beef with other ingredients into the slow cooker and place onto low for 6 hours or until the meat is tender. Depending on size and cut this can take up to 8 hours.
https://whangareikitchens.nz/wp-content/uploads/2018/06/Add-brew-to-your-stew.jpg
369
550
NEK Accounts
https://whangareikitchens.nz/wp-content/uploads/2016/08/logo.png
NEK Accounts
2018-06-11 14:11:25
2018-06-11 14:11:25
Winter's Beef Casserole