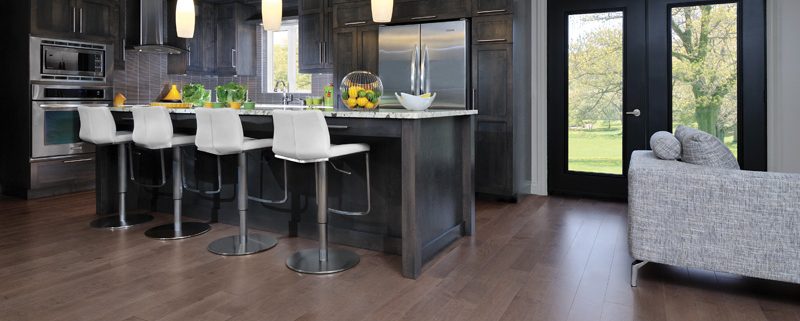 As gorgeous and elegant as dark colored panels and bench-tops are they can definitely become a challenge when it comes to finger marks, food splatters etc, a lot of people are hesitant to go with these colors as they want to avoid that nightmare as some would call it – but I'm here to tell you that it is not as bad as you think.
Whether it's a matt, satin, semi-gloss or gloss finish, finger marks and water spills always stand out and can be hard to remove sometimes.
Because of the way the light reflects off a dark surface, the marks are often more obvious than on a lighter colour surface. If the mark is from an oily product, (for example oily fingers from cooking) removing this with a standard household cleaning spray can sometimes be ineffective as it doesn't break down the oil. The other consideration is the streak marks that can be left behind by the cleaning product itself.
There is so many products out there people will try to upsell to you saying "it works wonders, cleaning will be a breeze" BUT this is not always the case – you'd be amazed to find how easy it is to clean up marks using warm, soapy water (you can even add in a dash of disinfectant to keep it hygienic but don't use too much!) with a microfibre cloth – most times this will clean the cabinets leaving them nice and shiny with no marks whatsoever but sometimes, it can leave a water marks, the trick to this is actually window cleaner (it's safe and leaves the clean look you're going for.) On a laminate door, a mixture of eucalyptus oil and water in a spray works well to break down the grease and won't leave streak marks.
*Always use a microfiber cloth when wiping your doors as this will avoid fine scratches from appearing (especially important if the door is a gloss finish). The best brand we have come across for this is Norwex as their ultra-fine fibers are incredible gentle yet extremely absorbent. You can find these down at our showroom or even online!
Regardless of the finish you choose, dark cabinets will generally be more work to maintain the cleanliness, however – by sticking to this cleaning guide, I promise you will be at peace with your lovely, clean outcome.
https://whangareikitchens.nz/wp-content/uploads/2018/03/5622094800_4e730daf2b_o.jpg
543
800
NEK Accounts
https://whangareikitchens.nz/wp-content/uploads/2016/08/logo.png
NEK Accounts
2018-03-27 12:00:54
2018-03-21 13:04:59
How to maintain those dark colored panels/benchtops